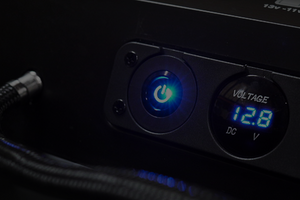 our technology
Innovative, self contained, battery powered. RinseKit is the original pressurized portable shower company.
why our electric portable showers are superior
Diaphragm Electric Water Pumps work much like the diaphragm in your body. Two flexible diaphragms reciprocate back and forth which pull in and then push out water. The diaphragms work as a separation between the air and the liquid, and the movement of the water back and forth is what creates the pressure.
The RinseKit battery powered line utilize diaphragm electric water pumps, powered by AGM 12v 5Ah batteries. We made the choice to use diaphragm pumps because of their superior pressure, long life, and durability. This is part of what separates our battery operated units from all other electric portable showers - the diaphragm pump makes it much stronger, and last much longer than other electric pump portable showers.
what sets us apart from the rest
BATTERY POWERED PRESSURIZATION
Unlike other portable showers that rely on gravity or manual pumps, our AGM 12v 5Ah battery powered products offer consistent spray without manual pumping.
patented heating
Let's be real, nothing beats a hot shower after a long day. All of our models have heating options so you can bring the comforts of home with you, no matter how far you wander.
high pressure spray
Get a consistent, uninterrupted spray at 50 PSI. No manual pumping, gravity, or bike pump required.
15,00HR RATED pump
Not only are our showers battery operated, they're built to last. Get the most out of your RinseKit for years to come.
40/hr of use per charge
Get the most out of your adventure, without have to think about recharging. Depending on frequency of use, one charge should last about 3-6 months.
MILITARY GRADE build
Roto molded using military grade, High-Density Polyethylene (HDPE) makes our products weatherproof and UV resistant.
IP65 weatherproof control panel
Consisting of two USB ports, a 12v outlet & a LED display to indicate the units internal water temperature and battery life.
bpa free materials
All internal components are BPA free so you can use the RinseKit as a fresh drinking water source.